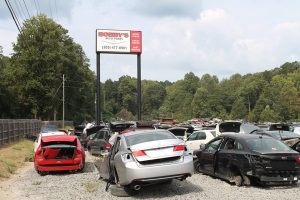 At Bobby's Auto Parts, we maintain a 13-acre inventory of over 500 cars and trucks; all makes and models. It's an inventory we update with an average of 25 new vehicles every week. Our 10,000 square foot warehouse, and customized inventory system, gives us ready access to most of the quality parts you need right now.
What's more is we back every part we sell with a standard 90-Day warranty. Some customers count on Bobby's Auto Parts as their one-stop source for every part they need. When we do not have a part in stock, we can often help you find it through our broad network of alternate sources.
Bobby's Auto Parts offers same-day shipping nationwide (including Hawaii and Alaska) on most non-local orders, phone or online, placed by noon.